ผู้ผลิตเครื่องทดสอบปริมาณน้ำในน้ำมันโดยวิธีการไตเตรตแบบอัตโนมัติ โดยหลักการ Coulometric Karl Fischer Titration สามารถทดสอบกับตัวอย่างของแข็ง เม็ดพลาสติค น้ำมันหล่อลื่น น้ำมันเชื้อเพลิง น้ำมันเตาน้ำมันดำที่ระเหยยาก เป็นต้น โดยใช้เครื่องระเหยความชื้นแบบรวดเร็วประกอบ
เครื่องหาความชื้นดังกล่าวมีจุดเด่นในการทดสอบนอกสถานที่โดยไม่ต้องใช้ไฟฟ้ากระแสสลับหรือไฟบ้าน และสามารถใช้ได้กับแบตเตอรี่สำรองที่อยู่ในเครื่องได้โดยตรง ทำให้สามารถทดสอบได้ทุกที่ ตามความต้องการของผู้ใช้งาน

Aquamax KF Moisture Meter
With a footprint of only 24 x 25 cm the Aquamax KF is small enough to fit into any laboratory.
Methods
Aquamax KF moisture meters conform to, or can be used as an alternative instrument for the following methods:- ASTM D95, ASTM D1364, ASTM D1533, ASTM D3401, ASTM D4006, ASTM D4377, ASTM D4672, ASTM D4928, ASTM D6304, ASTM E202, ASTM E203, ASTM E1064, IP74, IP356, IP358, IP386, IP438, DIN 51777, IEC 60814, BS 148, BS 6470, BS EN 60814, ISO 3733, ISO 3734, ISO7201-1, ISO 10101-3, ISO 10337, ISO 12937.
Simple to programme so that only a single button needs to be pressed for a titration, everything else is automatic. The unique Low Drift Cell glassware design is by far the easiest to use and also the most robust. Ordinary ground glass joints used by other manufacturer's require either grease or PTFE sleeve to ensure a good seal and to prevent jamming. The patented design joints used on our Low Drift Cell glassware require neither. Even without grease or PTFE these joints will not stick or jam. Hassle free assembly and disassembly.
All Low Drift Cell glassware sets are supplied in a purpose designed, impact resistant carry case. The generator electrodes can be supplied either with or without frit and all electrode have detachable leads.
The built-in high speed printer provides hard copy of results and even allows duplicate print outs if required. Results can also be downloaded via the Results Manager software package onto a pc spreadsheet format. The Aquamax KF is delivered ready for operation and the comprehensive glassware pack, including electrodes, titration vessel, leads, syringe, printer paper, etc, is supplied as standard.
Compare the Aquamax KF with any of these coulometers – then ask us the price.
Compare the Aquamax KF moisture meter with coulometric Karl Fischer titrators supplied by Brinkmann, Denver, KAM Controls, CSC Scientific, Cosa Instrument Corporation, JM Science, EMD Chemicals. Aquamax KF moisture meters are a low cost, compact alternative to Metrohm 652 KF, 684KF, 756KF, 831KF, 787KF Titrino, 795KF Titrino, Mettler Toledo DL31, DL32, DL38, DL39, Mitsubishi CA02, CA05, CA06, CA10, CA20, CA21, CA100, CA200, KEM MKC510, MKC500, Aquapal, Hiranuma Aquacounter AQ 2100, AQV-300, AQ 300, and KAM Controls titrators for measuring water content by coulometric Karl Fischer titration
Just some of our many applications
Aquamax KF moisture meters are widely used for measuring water content of samples including crude oils, petroleum products, electrical insulating oils, transformer oils, insulating liquids, natural gas, refrigerant gas, biodiesel, solvents, inks, mineral oil, ethylene glycols, polyols, aviation fuels, kerosene, brake fluids, hydraulic fluids, antifreeze, lubricating oils, organic liquids, naptha, paraffin wax, hydrocarbons, hexane, toluene, alcohols, ethanol, isopropanol, ethers, THF, liquid paraffin, hexane, petroleum ether, xylene, freons, gasoline, silicone oil, turbine oil, freeze dried powders, etc.
The correct result every time
At the heart of the Aquamax KF is GR Scientific's state of the art ACE Control System. This patented Automatically Compensated Errors system guarantees that the electrolysis current produced and the count rate displayed are always correctly synchronised, regardless of changes to the electrolysis cell resistance.
Technical specifications
Titration method
Coulometric Karl Fischer titration
Electrolysis control
Patented "ACE" Control System (GB2370641)
End point detection
AC polarisation
End point indication
visual display
print out
acoustic beep
Display
40 character alphanumeric backlit LCD
Measuring range
1µg – 10mg water
Moisture range
1ppm – 100% water
Max. sensitivity
0.1µg
Max. titration speed
2 mg per minute
Max. current
400 ma
Drift compensation
Automatically controlled
Start delay time
0-30 minutes, user programmable
End delay time
0-30 minutes, user programmable
Power supply
90-264VAC, 47-63 Hz, 12V DC car adapter/internal battery
Precision
10 – 100µg ± 3µg
100µg – 1mg ± 5µg
above 1mg ± 0.5%
Calculation modes
User programmable calcualtions:- Weight/weight,
Volume/density, Volume/volume, Weight/dilution ratio.
Display format
µg, mg/kg, ppm, %
Print format
µg, count plus calculated mg/kg, ppm,% water
Statistics
Up to 99 runs, user programmable
Method storage
10 programmable methods
Sample ID number
user programmable
Printer
42 character high speed thermal printer
Stirrer speed
Microprocessor controlled
Battery Life
8 Hours running time from fully charged
Charging time
Fully charged 14 hours
Battery low indication
Display & print out indication
Dimensions
10x 9½ x 5 inches (250 x 245 x 120mm)
Weight
6 pounds (3kg)
Carry case
Optional
Calender/clock
Analysis time & date print out
Downlaod General Catalog: http://www.grscientific.com/PDF/GRScientific_brochure.pdf
Download Catalog: http://www.grscientific.com/PDF/cou-lo_aquamax_data.pdf
Moisture Evaporators
Evaporators for use with Aquamax KF to measure water content of solids, powders, heavy oils, greases & Lube oils. Please click on the image of the evaporator of interest to you for further information.
Download Catalog for Solid Sample: http://www.grscientific.com/PDF/ADP511.pdf
Downlaod Catalog for Liquid Sample: http://www.grscientific.com/PDF/ADP513.pdf
Cou-Lo Formula Reagents
Our new range of coulometric Karl Fischer reagents are now available. More info
Oil Sample Syringe
A 1.0ml gas tight syringe specially designed for oil samples. Marked in white lettering the volume increments are easily visible even with crude oil samples
Carry Cases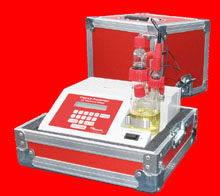 Optional Carry case provides the portability required by the field engineer. The Aquamax KF can be transported, complete with glassware assembled, ready for immediate use on arrival at destination. Power cords, syringes, etc, can all be carried inside the carry case lid which has a special compartment for this purpose.
Results Manager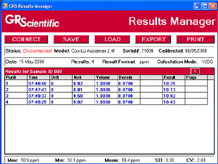 KF Data Management software for use with the Cou-Lo Aquamax titrators.