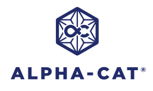 Alpha-Cat เป็นบริษัทที่เชี่ยวชาญในการทดสอบผลิตภัณฑ์กัญชาและเป็นผู้ผลิตชุดทดสอบองค์ประกอบหลักของน้ำมันกัญชาอย่างง่าย (Cannabinoid Analysis Test Kit) สามารถทดสอบค่าความบริสุทธิ์ของสารสกัดกัญชาได้สูงถึง 6 ชนิด ได้แก่ Cannabidiol (CBD), Cannabinol (CBN), Tetrahydrocannabinol (THC), Tetrahydrocannabivarin (THCV), Cannabigerol (CBG)และ Cannabichromene (CBC) ความแม่นยำ +/- 1% ใช้ตัวอย่างน้อยเพียง 0.1 กรัมต่อการทดสอบ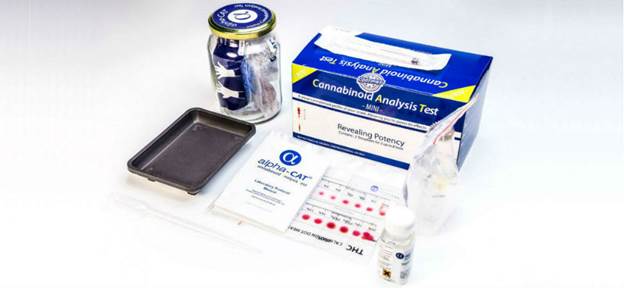 What is Alpha-Cat?
Alpha-CAT is a Cannabinoid Analysis Test Kit which combines the simple analytical technique of thin-layer chromatography (TLC) with specific thin-layers and developing fluid. Thanks to this new protocol the main active ingredients of the cannabis plant parts can be visualised due to a highly specific colouring reaction which represent the cannabinoids present in the sample of cannabis or cannabis product. Alpha-CAT's method enables the detection and identification of six (6) of the main cannabinoids present in cannabis: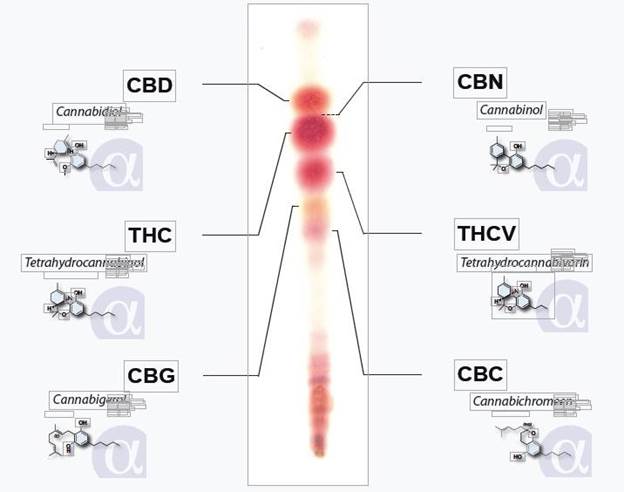 · Cannabidiol (CBD)
· Cannabinol (CBN)
· Tetrahydrocannabinol (THC)
· Tetrahydrocannabivarin (THCV)
· Cannabigerol (CBG)
· Cannabichromene (CBC)
A minimal amount of material (0.1 gram) is needed per sample to provide a unique and effective way of analysing the cannabinoid profile in various mixtures such as plant parts of cannabis, trichome resins, oils, tinctures and edibles products (ice-creams, cookies, teas…).
Alpha-CAT helps you to assess the effect of any specific strain with:
· A THC and CBD reference chart for indication of strength and potency
· Chemotype / cannabinoid profile which categorizes the strain
· Chemotype-effect chart indicateing the pharmacological effect to be expected
· A symptom-cure guide helping to determine which strain best helps to alleviate specific symptoms.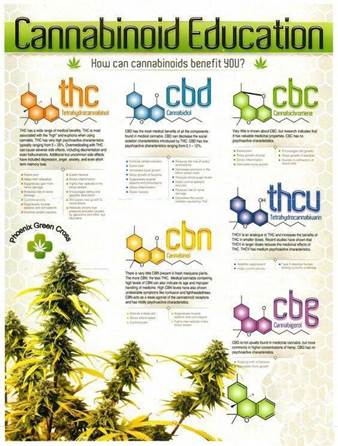 Picture Credit: Phoenix Green Cross
The following is required to use this test:
-Samples of cannabis or cannabis products (e.g. cookies, ice, cake, etc.)
-A well ventilated working area (a fume hood connected to a filtering system is recommended)
-Digital weighing scale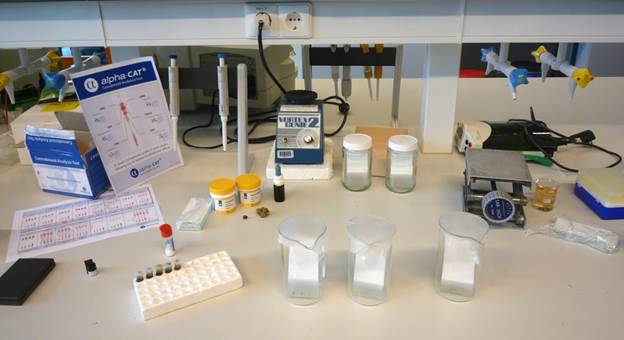 Analysis of the results can be found in more detail from the alpha-cat website or below as a guideline.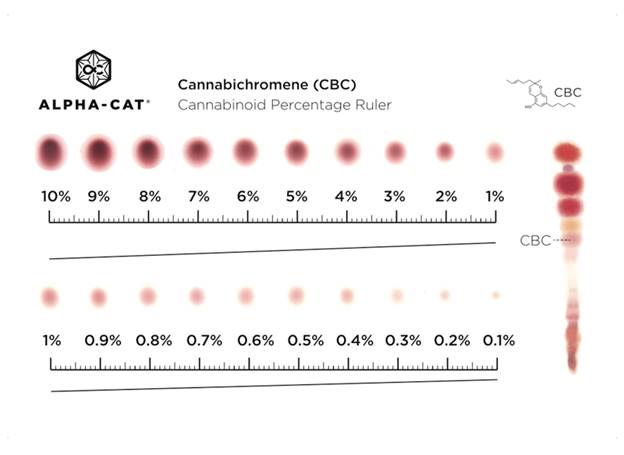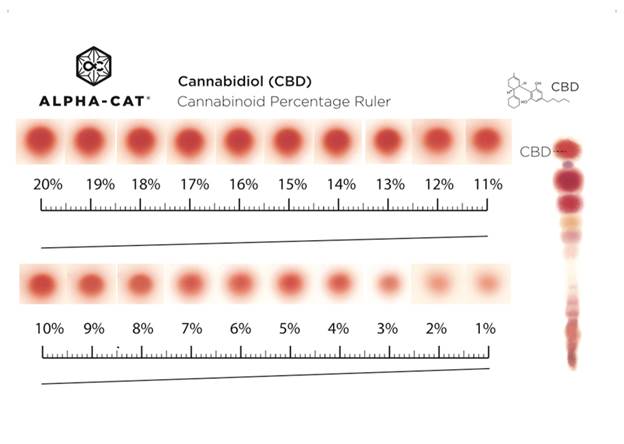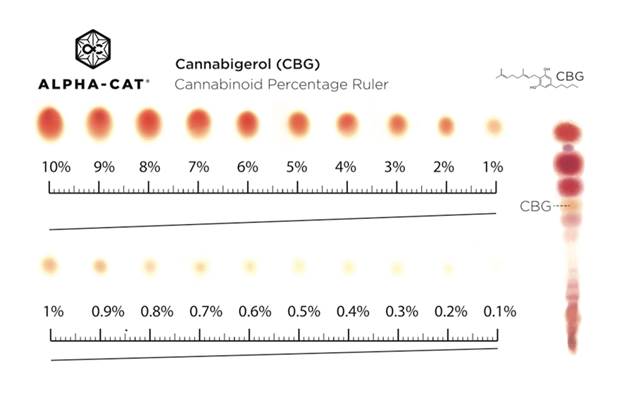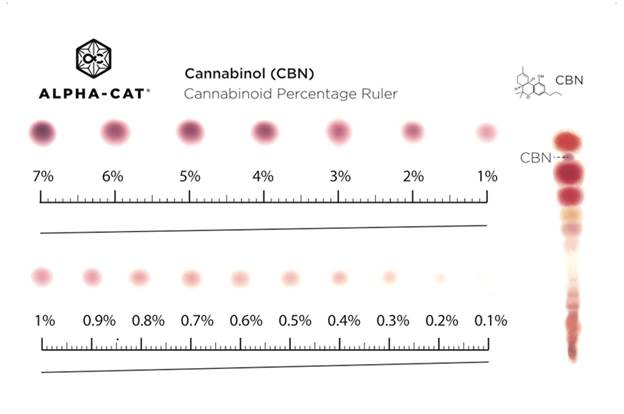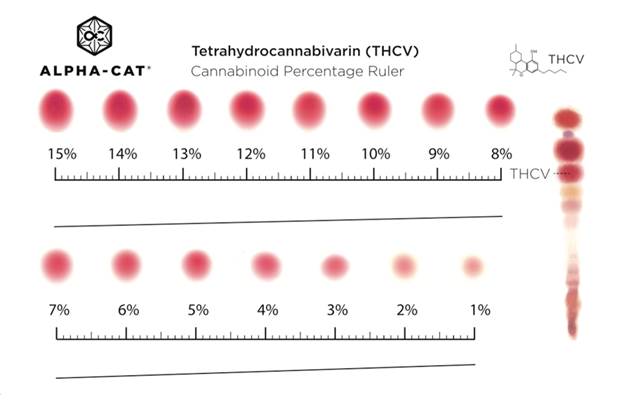 How accurate are alpha-cat tests?
The Thin Layer Cromatography method used by alpha-CAT is reliable and standardized within +/- 1,00% deviation.
Items included with your purchase:
-1 alpha-CAT manual guide
-1 THC and 1 CBD calibration chart, standards that allow accurate % quantification
-2 Test plates
-2 Dye powder microtubes (0,06 gr), for storage in cool, dry, dark conditions
-1 Bottles of alpha-CAT test fluids (10 ml)
-8 Eppendorf tubes (1,5 ml)
-1 Developing jar
-1 Dipping tray
-1 Pipettes (3 ml)
-1 Syringe (1 ml)
-1 Vial with 10 capillary tubes (1 ul)
-4 Nitrile gloves
-1 Becher (25 ml)
-1 capillary pipette bulb
See available Alpha-Cat Test Kits
Alpha-Cat Mini Cannabinoids Test Kit
For those looking to buy a kit for occasional testing, the Alpha-Cat Mini Kit is an excellent choice. It's the same as the Regular Kit in that it contains all of the necessary equipment for your tests (minus the digital weighing scale you must supply). The Mini Kit can also test for the full spectrum of cannabinoids, so it works well as a THC or CBD test kit as well as a potency test for other more minor cannabinoids. However, you'll need to download the extra charts in order to be able to properly quantify the results of the Mini Kit. The Alpha-Cat Mini Kit is sufficient for conducting between 2 and 8 tests.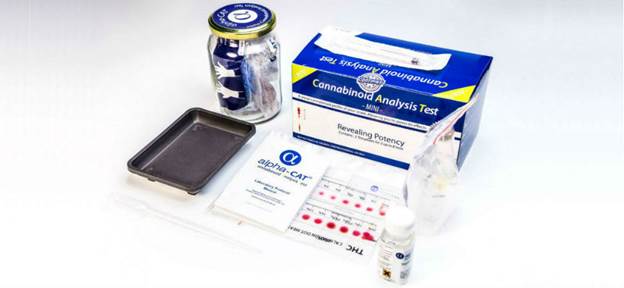 Alpha Cat Mini Cannabinoids Test Kit – 2 to 8 Tests
Alpha-Cat Regular Cannabinoids Test Kit
Every Alpha-Cat marijuana test kit functions as a tiny marijuana testing lab. Each one contains all of the essential equipment necessary to test a sample of material and decipher the results. This includes calibration charts for cannabis potency testing, test plates, dyes and test fluids, as well as all of the vials, jars, trays, pipettes, syringes and gloves needed to complete your tests. Kits also include an easy-to-use manual to guide you through the process. In addition to the included equipment, you'll need a digital weighing scale and a well-ventilated area to work.
While Alpha-Cat sells their Regular and Mini test kits for the purpose of determining the presence/potency of THC and CBD only, it's important to note that these two products are capable of testing for the entire spectrum of cannabinoids. Besides THC and CBD, the Regular and Mini Kits also check for levels of CBN, THCV, CBG, and CBC.
These two kits only contain calibration charts for THC and CBD, but the full charts are available for download online.
The Alpha-Cat Regular Test Kit is the best value for the money, as it contains enough supplies to conduct between 10 and 40 cannabis potency tests. It's an excellent middle-of-the-road option for those who need to test cannabis samples somewhat frequently.

Alpha Cat Regular Cannabinoids Test Kit – 10 to 40 Tests (Better Value)