ผู้ผลิตเครื่องมือและอุปกรณ์ที่จำเป็นสำหรับห้องแล็ป ห้องปฏิบิติการ เช่น เครื่องทำความเย็น (Chilller), อ่างทำความเย็นหมุนเวียน (Cooling Bath), ตู้บ่มเชื้อพร้อมระบบเขย่าในตัว (Shaker Incubator), อ่างควบคุมอุณหภูมิ (Water Bath / Oil Bath), เตาหลุม (Heating Mantle), เครื่องกวนสารด้วยแม่เหล็กไฟฟ้า (Magnetic Stirrer), เครื่องกวนผสมสาร (Overhead Stirrer) เครื่องทำให้สารเป็นเนื้อเดียวกันความเร็วสูง (Homogeniser) เครื่องผสมด้วยคลื่นอุลตร้าโซนิกส์ (Ultrasonic Mixer / Sonicator) เครื่องเขย่าสาร (Vortex Mixer / Orbital Shaker / Horizontal Mixer), เครื่องปั่นเหวี่ยง (Centrifuge) เครื่องระเหยสารแบบใช้ไนโตรเจน (Nitrogen Evaporator) เครื่องบีบตัวอย่าง (Stomarcher), เครื่องผลิตน้ำบริสุทธิ์ (Ultra Pure Water Purifier), ไมโครปิเปต (Micropipette), เครื่องจ่ายของเหลวอัตโนมัติ (Auto-Burette / Automatic Dispenser) ถังเก็บไนโตรเจนเหลว (Liquid Nitrogen Tank) เป็นต้น

Cooling and heating circulating pump
ORHC series cooling and heating circulating pump is the most widely used circulating pump for chemical reactors.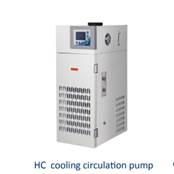 RC series low temperature circulation pump, cryogenic liquid circulation by mechanical refrigeration, combined with the rotary evaporator, vacuum freeze-drying oven, circulating water vacuum pump, magnetic stirrer and other instruments, multi-function chemical reaction under low temperature operations and drug store, can also meet the needs of electron microscope, electron probe, ultra-high vacuum sputtering apparatus, X-ray machine, etc.

Cooling and heating circulating bath
RHC series heating and refrigerated circulators, providing a constant temperature liquid environment of -40℃ to 100 ℃, used for the temperature control of electronic component testing, chemical synthesis, life science experiments, etc.

VRHC-0506 circulation bath is specially used for viscometers, high temperature control accuracy, low fluctuation.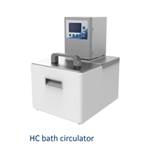 HC series heating circulating bath provide room temperature to 100℃, 200℃, and can be customized 300 degrees of constant temperature liquid environment, used for electronic component testing, chemical synthesis temperature control, etc.

OB series oil bath is widely used in bioengineering, medicine, food, chemical industry, gold treatment, petroleum, and other fields. To provide users with high precision, controlled, temperature uniform constant place, is the Research Institute, colleges and universities, factory laboratory, inspection department, etc.

HC-T series transparent water bath is with transparent chamber design, with big improvement on temperature uniformity and accuracy, especially designed for tissue culture, enzyme reaction studies, growth observation studies etc.

TWB series water bath is the most widely used water bath in laboratories. It's chamber and lid all use 304 stainless steels, and it contains triple safety protections to ensure the laboratory's safe. The chamber is deeper than normal bath, and with arch lid.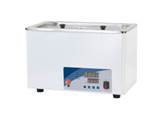 WB series water bath is the most widely used water bath in laboratories. It's chamber and lid all use 304 stainless steels, and it
---

Plasma Bio-filler is extract plasma from litigant's blood, and then made plasma liquid to gel, then inject into body. During the process, our Plasma Bio filler is the important equipment to made blood plasma into autologous collagen. It adopts advanced cooling and heat system, can control the temperature accurately.

D4-4FAT is multi-functional PRP & self-fat purification centrifuge, which is mainly used in cosmetic surgery, dermatology and TCM rehabilitation the urology field. It can use 10ml, 20ml, 50ml, 60ml of conventional syringes to separate the fat & PRP and no heating or damage on the fat, easier to operate and ensured survive rate of the fat.
D3-4PRP is Fat and PRP purified centrifuge, it can use 10ml, 20ml syringe to separate directly, the safe transfer process ensure the high survive rate of PRP and fat, and reduced the complex operation process, it is the idea machine for cosmetic surgery, beauty salon, clinics and so on . can also fit many kind of PRP kits in market, like Korea Dr. PRP, PRO SYS PRP, YES PRP, YCELLBIO Kit

D2-4PRP is a PRP (platelet-rich Plasma), PRF (platelet-rich fibrin) and CGF (Concentrate Growth Factors) centrifuge, it's widely used in qualitative analysis of blood serum, plasma and medical products in hospital, biochemistry and blood center, Dental hospital, Plastic surgery, Orthopedics department, and Maxillo facial surgery.

D400-OL oil testing centrifuge is designed for assay of the water and sediment in the crude oil. It can meet the requirement of GB/T6533-86, using centrifugal separation method to determine assay the water and sediment in crude oil. It is ideal equipment for the oil industry and scientific research in separating water.

F6-6R large capacity refrigerated centrifuge equipped with 6×1000ml round cup and 6×1000ml oval cup rotor is an ideal equipment for biological pharmaceuticals, biological products, blood stations

Low speed large capacity refrigerated centrifuge
Description F5-5R is with compact size but large capacity and refrigerated function. Widely used in Hospital, Blood bank, Biochemistry, Bio-pharmaceutical and Scientific research Company.

Description The PGspin centrifuge specially developed for dental industry, this centrifuge makes an advanced-platelet rich fibrin (PRF)& concentrate growth factors (CGF) clot that's used to facilitate new bone formation for implant placement or placed at the time of extraction to preserve the socket. It rapidly, efficiently and predictably harnesses the body's healing potential to achieve an extraordinary result.

Description HCTSpin with fast and reliable haematocrit determination. HCTSpin determination with standard capillaries is carried out with 24-place rotor. Each capillary is secured within its own chamber and supported by a holding tray, Rotor lid is cover and evaluation disk in Feature Maximum speed is 12000rpm Max. RCF 13680xg Precise control of speed and time separately Rotor capacity: Hematocrit rotor: 24 capillary

Floor type High Speed Refrigerated centrifuge
Feature *Superior performance Microcomputer controlled, AC frequency variable motor drive, without toner power pollution, and longer lifetime. Lower noise and less vibration, equipped with multiple types of rotors for users to choose. Efficiency has been greatly improved. *Easy operation Equipped with Large LCD with touch function display, programmable application, which can be operated freely with variety of rotors for selection.

High speed refrigerated centrifuge
Description F5-5R is with compact size but large capacity and refrigerated function. Widely used in Hospital, Blood bank, Biochemistry, Bio-pharmaceutical and Scientific research Company.

Micro capacity high speed refrigerated centrifuge
Description Micro-18(R) centrifuge is useful for routine application in bio-

Low speed refrigerated centrifuge
D4-5R refrigerated centrifuge is a table low speed refrigerated centrifuge with steel shell and stainless-steel chamber. It is small in volume and can be used on the blood collection car. It has constant temperature function and is suitable for nucleic acid extraction experiment and can meet the requirements of vacuum blood collection vessel separation with various capacity specifications.

Low speed large capacity centrifuge
D4-5S low speed large capacity centrifuge are widely used in medical and Biological Field, Health Examination center, and laboratories etc.

Description D3-4S centrifuge is suitable for routine sample analysis in medical, hospital, pathology, and institutional laboratories. With wide variety of accessories, they can be also used for preparation of samples in industrial and research laboratories.

Description The centrifuge suitable for extraction of medical products. blood bank. clinical trial and of blood serum, plasma, body fluids and biological specimen in biology laboratory, it is more significantly in the genetic, Protein &Nucleic Acid. PCR products field for experimental research.

D2-5A is a very economic universal centrifuge, suitable for routine sample analysis in medical, hospital, pathology and institutional laboratories. With wide variety of accessories, they can be also used for preparation of samples in industrial and research laboratories.

Feature Timer from 1sec-99min LCD display of time and speed DC motor, low noise Open the cap, it will stop running automatically short braking time, only need 4 sec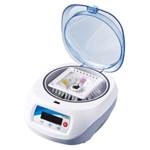 Feature Time from 1sec-999min multi-rotor for tubes and Strips LCD display of time and speed Double capacity of mini centrifuge Adjustable speed from 1000rpm-12000rpm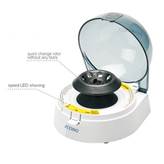 Feature *Super low working noise: use the patented special motor, less than 47dB , not exceeding 49dB .
---

Features: 1. Tips ejector allows on-hand operation, easy and efficiency 2. 8 and 12 channel pipettes are available for standard 96-well plate 3. Dispensing head rotates for optimum pipetting convenience 4. Individual piston and tip cone assemblies allow easy repair and maintenance 5. Compound material tip cone design allows visual seal verification

Features: 1. Light weight and ergonomically designed 2. Easy to calibrate and maintain 3. Digital display 4. Wide measurement range, 0.1μl to 10ml 5. Accurate dispensing 6. M series is half autoclavable, A series is full autoclavable

Features: 1. With digital readout for easy handle, high accuracy of liquid separation. 2. high temperature and chemical resistance and could be whole autoclavable. 3. The bottle top dispenser equipped with different thread adapters, it is suitable for most of the laboratory reagent bottle. 4. With safety valve and cap, preventing spray and leakage, safe and reliable.

Feature It can cap/decap one row 1/6/8 caps within 3 seconds, increase efficiency Avoid contacting samples or reagents due to cap/decap caps and reduce the potential safety hazards caused by biochemical reagents and biological samples It is the lightest product among all the handheld decapper to avoid fatigue caused by long-term holding

Description Universal pipette stands, with popular and beautiful designing, can used for all brands of micropipettes.

Feature Highly gas tightness Environment- friendly materials Lightweight and dexterous for operation. Durable and unnecessary maintenance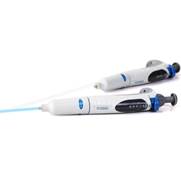 Feature Smooth activation, excellent ergonomics Fully autoclavable 121℃ / 250℉ Easy maintenance, cleaning and disinfection Eject mechanism automatically Digital volume showing

Feature Unnecessary maintenance Chemical resistance Human engineering design Lightweight and Structure strong Lightweight and dexterous for operation A wide range volume for liquid controlling

Specifications Weight: 190g Operating and charging temperature +10°C to 35°C Pipetting Speed: 50ml in less than 10 seconds For glass and plastic pipettes from 0.1 to 200ml Approx. twelve hours of continuous, pipetting(with a 10ml pipette) Without recharging battery pack: Lithium battery 2.4V/700mah

Feature *There are 5 different volume 8 and 12 channels micropipette, the volume cover 0.5-300μl; *The multichannel Micropipette have the light weight, operating pressure is light and easy; *Rotating dispensing head for optimal pipetting convenience. *Due to the optimized standard design for the tip cone which it can be compatible with other brands of tips; *Large central pipetting button and separate ejection function *True one-handed operation for both right-and left-handers

Feature *Large central pipetting button and separate ejection function
---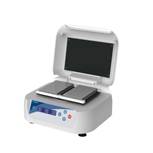 Description TS100-2M/TS100-4M microplate shaker is a kind of microprocessor controlled and PID controlled shaker. It is mainly used for incubating microplate and elisa plate at constant temperature.

Description DBS100-4M microplate shaker is a type of shaker with brushless DC motor, mainly used for mixed oscillation of elisa plates (96/384 wells), deep well plates and tissue culture plates (24/48/96 wells, etc.).
Description DB100-2M/DB100-4M microplate incubator is a kind of microprocessor controlled and PID controlled incubator. It is mainly used for incubating microplate and elisa plate at constant temperature.

Description TS-100H/TS-100C thermal shaker is a product with mixing, oscillation, incubation heating and cooling functions, and brushless DC motor and microcomputer-controlled technique. It can not only mix all kinds of microtubes, PCR plates, deep hole plates, micro hole plates and other commonly used laboratory consumable materials, but also has the function of heating, incubation and catalysis for all kinds of modules to meet different needs.

Description D200 dry bath incubator is a leading multi-functional metal bath product, accurate temperature control, high quality design, beautiful and generous. Widely used in cultivating, preservation, and reaction of samples, throughout the pharmaceutical, chemical, food safety, quality, environment, etc.

Description DB-100H/DB-100C dry bath incubator is microcomputer controlled constant temperature metal bath device, instead of traditional water bath device. Configure a variety of modules, suitable for a variety of different types of tubes.

Description MDB-100H/MDB-100C dry bath incubator is a handheld constant temperature metal
---

DS-100 Rocker Shaker can be directly used in the greenhouse or in the freezer. It is ideal for gel detaining after electrophoresis and homogenization of bio-extraction media.

SWB-30 shaking water bath is suitable for oscillating culture of various liquid and solid compounds such as biological, biochemical, cell and strain in various colleges and universities, medical, petrochemical, sanitary and epidemic prevention, environmental monitoring, and other scientific research departments.

IS series incubator shaker is used for mixing of biological liquids as well as for incubation and cultivation of biological liquids according to the operator set program. It can fix all kinds of holders for flask, petri dish, tubes, Elisa plates, etc. Built–in microprocessor thermo controller provides constant temperature control in the incubator chamber. It is extremely easy to operate, with very straightforward setup of temperature, speed, and time.

OS-2000, OS-3000, OS-4000 series open air shakers are the most widely used shakers in laboratories for shaking many samples.

Description MVM-50 Multi-Tube Vortex Mixer is with brushless DC motor to drive oscillation, which can process 50 samples at once. Various accessories can be selected to meet the mixing needs of different specifications of test tube. Widely used in radioimmunoassay and other experiments requiring mixed operation, and common equipment of biochemistry, chemistry laboratory, hospital .

Description The rotary mixer is used for tissue culture, extraction, and determination of sedimentation rate (including chemical determination of various blood samples), such as: blood sample mixing, radioimmunoassay, glucose, in biological, chemical, animal and plant analysis, clinical experiments and many other aspects. Main features: They can be continuously mixed for a long time at a constant speed, and gently mixed to avoid cell rupture. It can also be placed in an incubator as needed.

Description ROM-7S digital roller mixer provides a gentle but highly efficient rocking and rolling motions, ideal for mixing blood samples, viscous substances and liquid solid suspensions. Used in a variety application, prevention of blood coagulation and immune precipitation etc.

Description VM-S vortex mixer is a tube oscillator focused on inching function, used for oscillating and mixing of various reagents, solutions, chemicals and other samples. It is especially suitable for oscillating mixing in small containers (maximum 50ml centrifuge tube).This instrument is small in size and is mainly suitable for medical, biological engineering, chemical laboratory, biochemical laboratory, factory laboratory, hospital laboratory, medicine and other research fields

Description The Vortex mixer widely used in life science. physical and chemical analysis fields. for vigorous re-suspension of cells or chemical pellets in tubes up to 15 ml.

Description The Magic mixer is a combination of variable speed rotator, advanced multiple tube vortex in one machine, it accept tubes from 0.2ml to 50ml, all kinds of tube holder can be assembled discretionary in one rack. The mixer can be used in ambient temperatures from +4 to 65℃, making it ideal for a variety of laboratory settings such as Molecular Biology, Biochemistry ,Clinical and Histochemistry . Small enough to fit on a crowded bench.

Description DS-25 decolorizing Shaker which swings up and down with little swing amplitude. Frequency adjustable. it's used for fixing of running gel spectral band, rocking of Coomassie blue and decolorization and fixing of silver nitrate staining, etc. It's used for development and fixation of X-ray film, further treatment cellulose membrane after electrophoretic migration, molecular hybridization, cell culture and blood mixing.

OS-10/OS-20 orbital shaker is with brushless DC motor and microcomputer
---
Hot Plate & Heating Mantle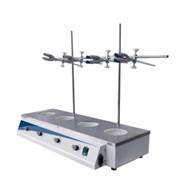 HM3 and HM6 multi heating mantles are designed for repetitive extraction (Kjeldahl, Soxhlet and other extraction procedures), laboratory reflux and distillation applications.

HM and HMS heating mantle are the most widely used heating mantle in laboratories.

HP series hot plate is developed and designed to meet the large-scale experimental treatment of heating digestion, boiling, and steaming acid in the laboratory and chemical production, ceramic surface has good thermal conductivity corrosion resistance.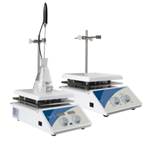 HPS-20, HPS-20D magnetic stirrer is with ceramic coating working surface, have good temperature uniformity and corrosion resistance, high power heating element can heat water to 100°C within 15 minutes, high power motor can stir at most 20L water.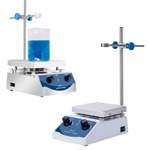 SH-2, SH-3 magnetic stirrer is the most cost-effective hot plate stirrer, mainly used for stirring or simultaneously heating and stirring liquid or solid-liquid mixtures of low viscosity.

MAG-5 magnetic stirrer hot plate is made of special Ceramic and the special heating technique, the hot plate can reach temperature up to 360°C. Use the large
---
Nitrogen Evaporator

Description SC200-1B is mainly used for concentration or preparation of large quantities samples (such as preparation of drug screening, hormone analysis, liquid phase, mass spectrometry samples).

SC200 series is mainly used for concentration or preparation of large quantities samples (such as preparation of drug
---
Homogenizer

The overhead electronic stirrer uses the numerical control touch type stepless speed governor, which is convenient to display the running speed with digital screen, which makes the machine more safe and reliable. Advanced technology, low noise, mechanical deceleration structure, small size, large output, large torque, suitable for scientific research, colleges, chemical, pharmaceutical, medical units, etc

Description Stir-110 laboratory mixer is suitable for mixing laboratory low, medium, and high viscosity liquids.

Description Emul-500 emulsifying machine is suitable for mixing low, medium, and high viscosity liquids in the laboratory, it can shear and emulsify granular material in liquid medium.

Description Homo-500 homogenizer is suitable for mixing low, medium, and high viscosity liquids in the laboratory, it can disperse and homogenize particle materials, tissues and cells in the liquid medium.

Description LB series lab blenders can effectively isolate the homogeneous microbe sample contained within and on the surface of the solid sample, ensuring that all samples are mixed in a sterile bag. The treated sample solution can be sampled and analyzed directly without sample changes and the risk of cross-contamination. Application field: food microorganism analysis; Homogenization of animal tissues, biological samples and cosmetics

Feature 1. Single-chip technology + 4.3-inch TFT capacitive touch screen (optional 7-inch), optional
---
Loop Sterilizer

B1000/B1001 bacti-cinerator sterilizer, using infrared heat sterilization, safe and convenient, widely be used in biological safety
---
Ultrapure Water Purifier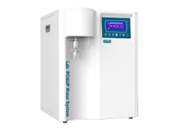 UPT series ultrapure water purifier takes municipal tap water as inlet water. It is the most cost-effective and widely used ultrapure water purifier in laboratory, can produce both pure water and ultrapure water.
UPBA pure water machine produces the water for clinical trials, and the water quality standard conforms to the Type I pure water
---
Liquid Nitrogen (LN2) Tank

This series is designed for sample transportation with special side or bottom reinforcements.

This series is designed to store large quantities of vials while maintaining low liquid nitrogen consumption. These containers are ideally suited for use in medical and biological science and research fields.

These large capacity containers feature longer hold time and are ideal for customers with high storage volume under static environment.

Main Features: High-strength aluminum alloy structure; Multi-layer thermal isolation design; Optional locking cover to protect stored biological samples; Protective jacket to prevent collision; Tow-year vacuum warranty.

There moderate capacity containers are the best choice for customers who will store biological samples or liquid nitrogen for an extended period under static environment.

Description These small capacity containers are designed for transferring biological samples stored in
---
Consumables

pcr tubes Free of DNase, RNase, human DNA and PCR inhibitors; Autoclavable

test tube
centrifuge tube

Inoculation loop

Petri dish

Cryotube box
These Cryo Tubes are Manufactured from durable PP. Based on the high quality and special features, they will be your best choice. They could be freezable at -196℃, interlocking cap ensure exactly fit and will not absorb contamination, Easy-to-read graduations are accurate to ±2%, and screw cap with plug seal for one-handed operation

PCR plate Made from high quality polypropylene to ensure the minimal loss of reaction solution; Flat surface, thick and solid; Elevated edge of the hole can better prevent cross contamination; Autoclavable

pipette tips filter pipette tips racked sterile filter pipette tips

Pasteur pipette Pasteur pipette Pasteur pipette

Feature Medical grade original Polystyrene RNase-free, DNase-free and non-pyrogenic. Seven types of